CUMUL
CUMUL coffee cup
2022
黒檀、欅、檜と3種の木材の美しさを楽しめるコーヒーカップ。リストレット(イタリアンコーヒー)、エスプレッソ、アメリカン、と気分によってサイズを使い分けることができる。スタッキング/CUMUL(仏語で「積み重ねる」の意味)することにより、インテリアオブジェとしても存在感を放つ。
Cups made from three types of wood: ebony, zelkova and cypress. Three sizes are available depending on your mood and beverage of choice: ristretto, espresso and lungo. The cups are stackable (cumul means "stacking"), so they also serve as an elegant household decorative object.
size:
(S)φ50.H43mm (M)φ50.H53mm (L)φ50.H63mm
materials:
黒檀,欅,檜,真鍮 Ebony,Zelkova,Cypress,Brass
price:
[Ebony] (S)¥21,500+tax (M)¥22,500+tax (L)¥23,500+tax
[Zelkova,Cypress] (S)¥14,500+tax (M)¥15,500+tax (L)¥16,500+tax
黒檀一輪挿し・テーブルウェア
Ebony vase · Ebony tablewear
2021
希少な黒檀の質感を存分に味わえる一輪挿しとテーブルウェア。深みのある色合いと心地よい重量感が、上質なひと時を演出する。
A single-flower vase and tableware allow you to fully savor the texture of rare ebony. The deep color and comfortable weight add to this high-quality work.
| | |
| --- | --- |
| size: | (vase)W35.H200.L35/W60.H300.L60/W65.H400.L65/W63.H500.L63/W77.H700.L77 |
| materials: | 黒檀 Ebony |
木製グラス
Wooden glass
2020
仏具制作の技術を用いた木製グラス。
檜や黒檀などの木材、ステンレスや真鍮などの金属と、多様な素材を組み合わせている。
A wooden glass made using Buddhist altar-making techniques. A variety of materials are combined with wood (such as cypress and ebony) and metal (such as stainless steel and brass).
| | |
| --- | --- |
| size: | W70.H70.L70 |
| materials: | 木,漆,ステンレス,真鍮 Wood,Lacquer,Stainlesssteel,Brass |
ユーエンアート株式会社
U-en Art Inc.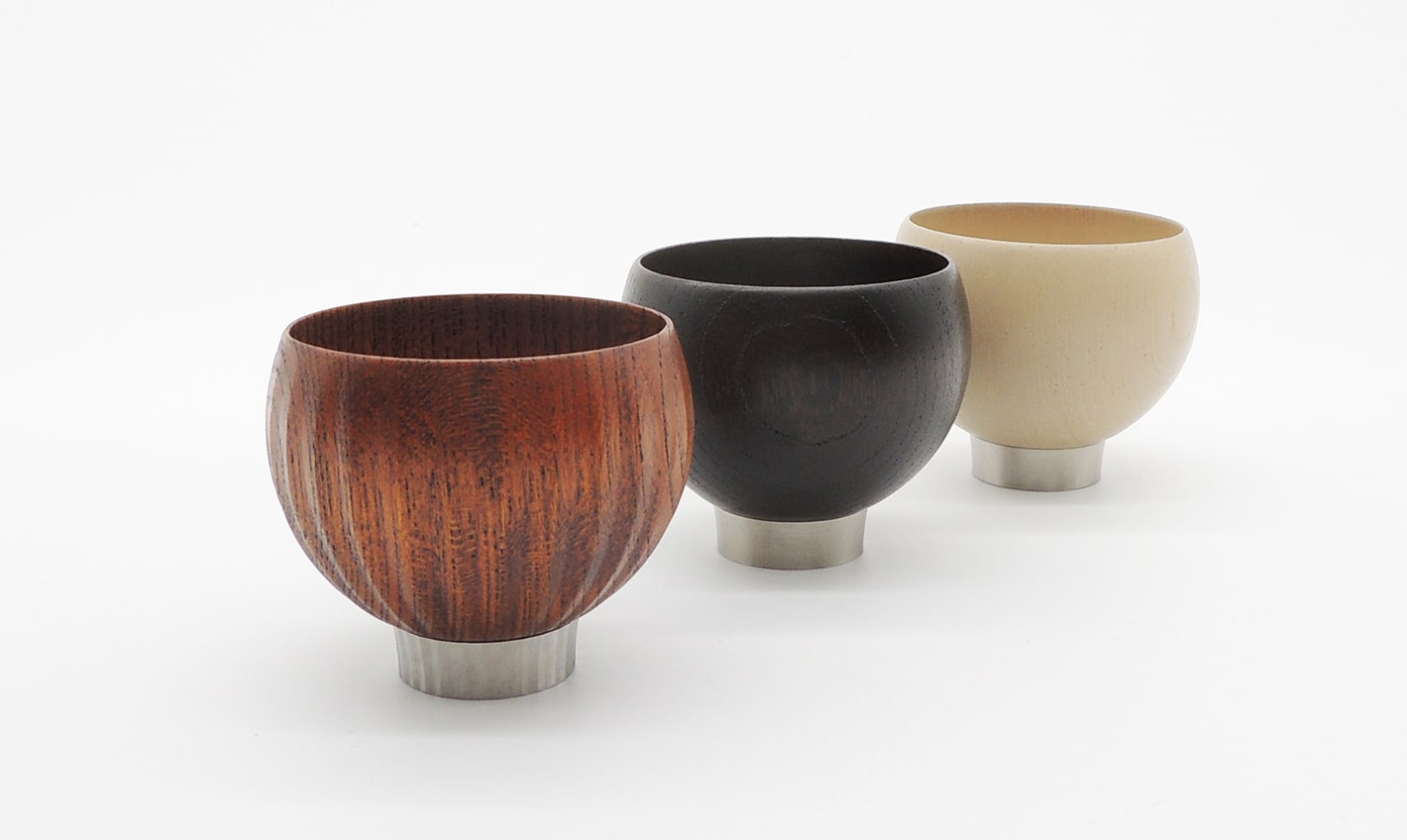 木材と金属を組み合わせる仏具製作の技術を活かし、日本の伝統工芸である漆を用いた木胎漆器の新しいかたちを提案している。漆器の中でも華やかな蒔絵が施された物などは海外において鑑賞品として捉えられることも少なくないが、装飾性を抑え「使う」ことに重きを置いた実用的な工芸品として、日本の伝統文化とともに、世界へと発信している。
SUtilizing the technique of making Buddhist altar fittings that combine wood and metal, we are proposing a new design of wooden lacquer ware using lacquer, which is a traditional Japanese craft. Among the lacquer ware, those with gorgeous decoration are often regarded as appreciation items overseas. However, as a practical craft with less decorativeness, it is being transmitted to the world along with traditional Japanese culture.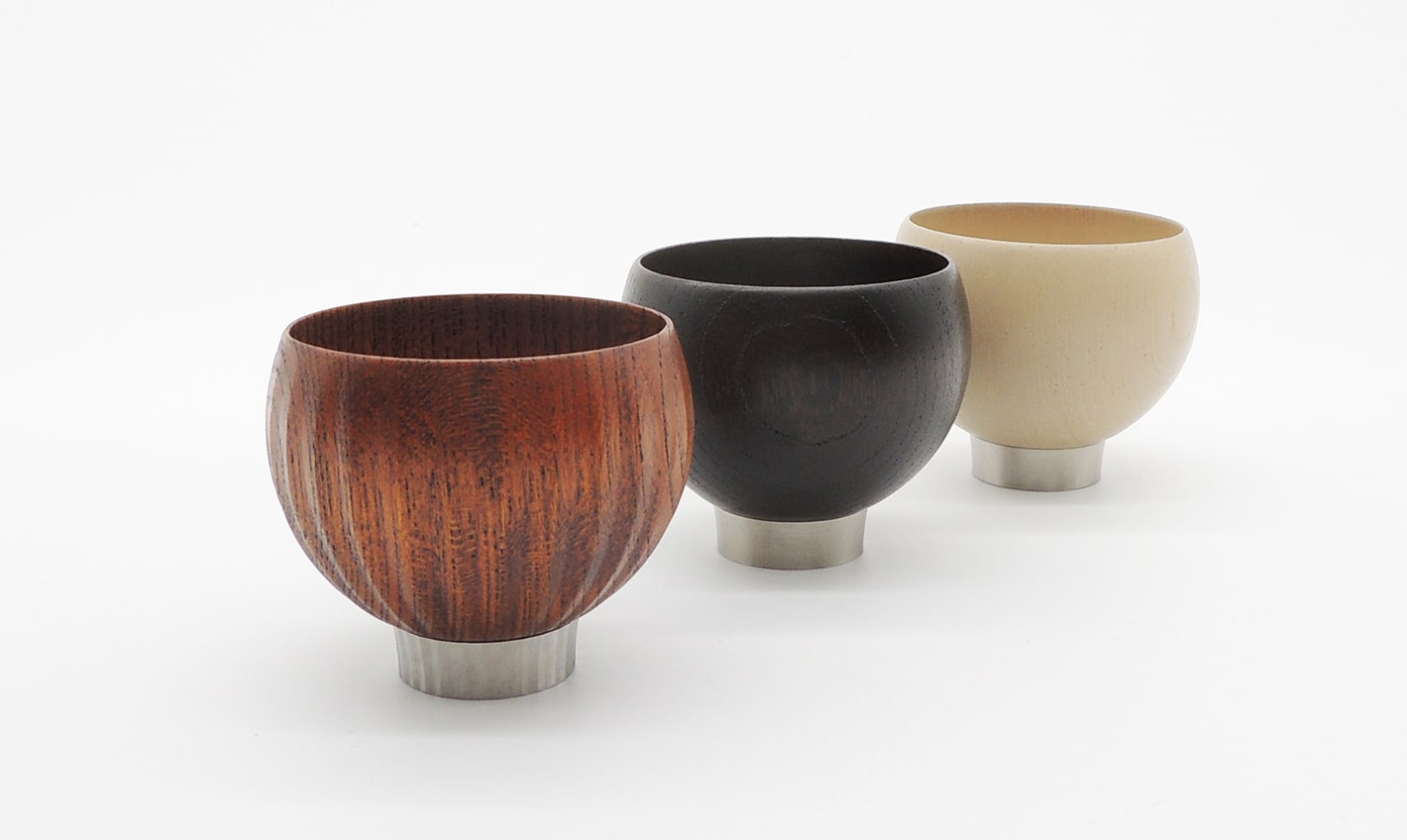 〒617-0003京都府向日市森本町小柳14番地614-6 Koyanagi, Morimoto-cho, Muko-shi, Kyoto, 617-0003 Japan
Tel : +81 075-933-5807 Fax : +81 075-921-6528