古箔酒器
Foil sake pot&cup
2022
伝統的な箔押しの技法で仕上げた、雅な印象の酒器とお猪口。美しい曲線が箔特有の鈍い艶によって浮び上がる。
An elegant sake pot and cup finished with a traditional foil-stamping technique. The refined curves of the pot are enhanced by the opaque luster unique to foil leaves.
| | |
| --- | --- |
| size: | (pot)W165.H155.L100mm (cup)Φ72.H39mm |
| materials: | 磁器,銀箔 Porcelain,Silverleaf |
| price: | ¥150,000+tax |
ウォールプレート
Decorative wall plate
2021
インテリアとして壁面を彩るプレート。深みのある釉薬の表情や豊かな質感を楽しむことができる。
This plate serves an interior decoration. You can enjoy the expression and rich texture of the deep glaze.
| | |
| --- | --- |
| size: | D280.H6 |
| materials: | 磁器 Porcelain |
一輪挿し
Vase


ティーカップ・ソーサー

Cup and saucer
2020

2020
清水焼の伝統技法を用いて、濁りや燻(いぶし)を独自の釉薬で表現している。
Using the traditional technique of Kiyomizu ware, aesthetic nuances such as haziness and smoke are expressed with a unique glaze.
| | |
| --- | --- |
| size: | (Vase)W70.H94.L70 (cup)W63.H62.L63 (saucer)W105.H19.L105 |
| materials: | 磁器 Porcelain |
有限会社洸春陶苑
KOSHUN TOUEN Co.,Ltd.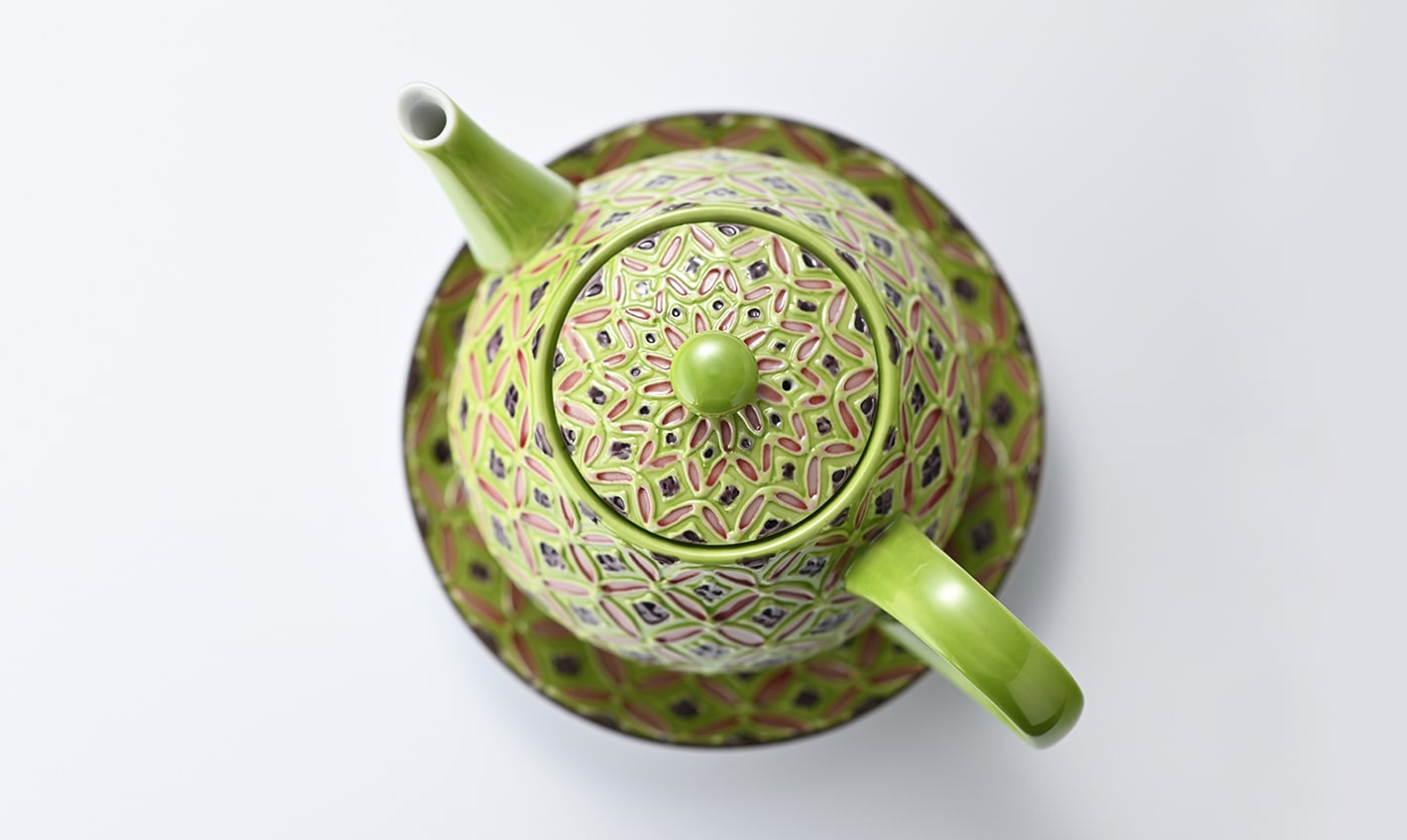 京都有数の陶磁器産地として名高い日吉地域で三代続く工房、洸春陶苑。鮮やかな発色が印象的な"交趾技法"を使い、茶道具から日常食器まで幅広く製作している。交趾の特徴である細やかな文様表現は、アイシングクッキーのように粘土をペースト状に溶いて袋から絞り出して描画する「いっちん」の技法によるもの。器づくりで培った技術をベースに、近年では照明器具やアートパネル、ルームサインや手洗い器、タイルなどの建築分野の商品開発も行っている。
KOSHUN TOUEN is a workshop that has continued for three generations in the Hiyoshi district, which is famous as one of the leading ceramic producing areas in Kyoto. We manufacture a wide range of tea ware and everyday tableware by making full use of the "koshi ware technology" with impressive bright colors. The delicate pattern expression that is characteristic of koshi ware is based on the "Icchin" technique, in which clay is melted into a paste and squeezed out of the bag like an icing cookie. In recent years, based on shipbuilding technology, we have been developing products in the construction field such as lighting equipment, art panels, interior signboards, hand washing machines, and tiles.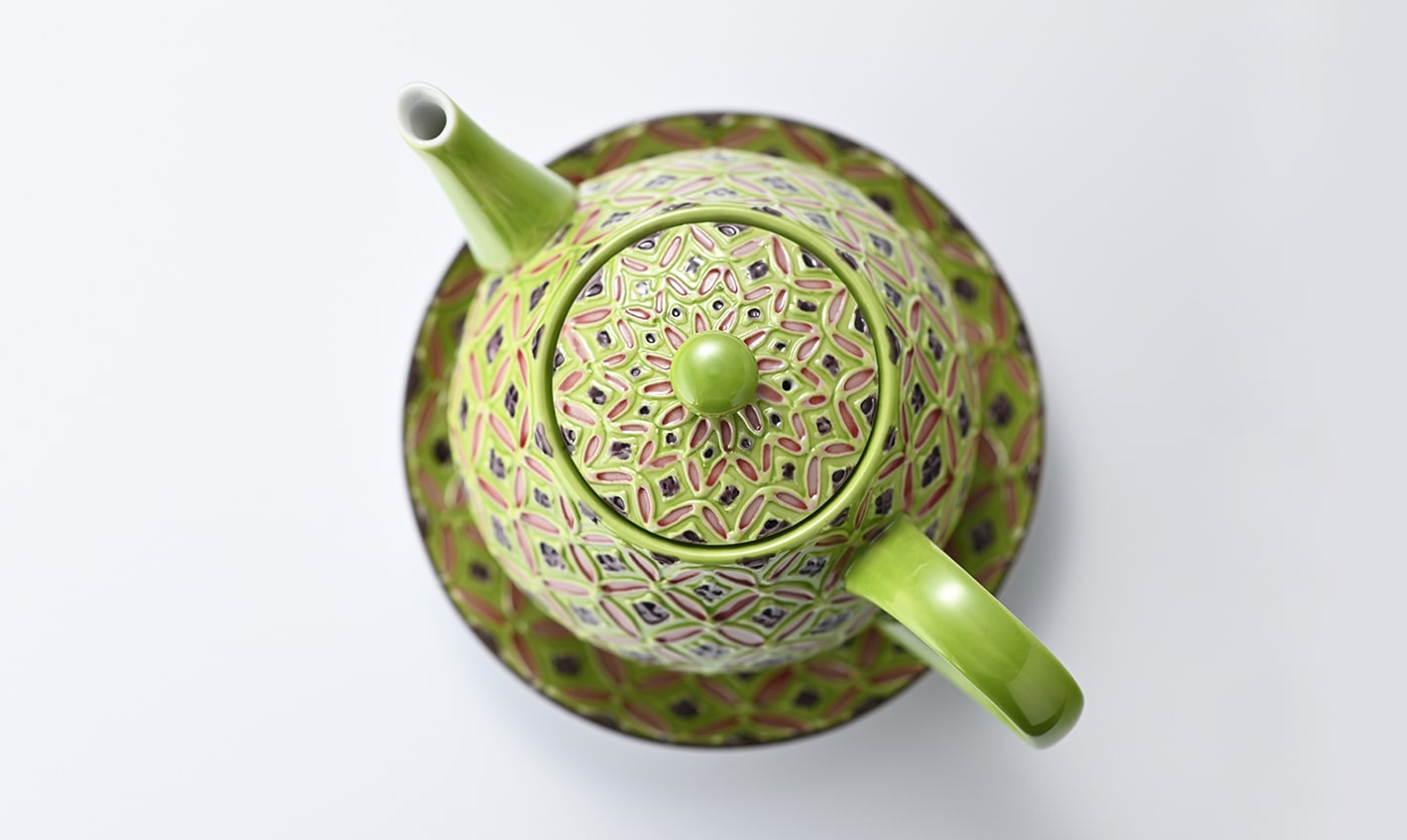 〒605-0953京都市東山区今熊野南日吉町148148 Hiyoshi-cho, minami, Imakumano, Higashiyama-ku, Kyoto, 605-0953 Japan
Tel : +81 075-561-5388 Fax : +81 075-561-5388