鹿の子絞アートパネル
SHIBORI artpanel
(L) deep forest  (R) deep sea  2021
深海 «deep sea»
深い海の底から空を見上げた時の、まるで光を追いかけるかの様に泡が次々と海面に浮かび上がり、いつの間にか光の一部となっていく様子を描いた作品。濃紺から白までのグラデーションが、一粒一粒手作業で絞られた泡でも表現されている。2020年、2021年全国伝統的工芸品公募展入選作品。
深緑 «deep forest»
深海に引き続き、自然界の情景を描くシリーズの新作。深い森の湖畔、水面に写り込む木々が水泡と共に湖の奥に吸い込まれていく様子を表現している。
«deep sea»
When looking up at the sky from the bottom of the deep sea, bubbles emerge one after another on the surface of the sea as if chasing light, and before you know it, they have become part of the light. The gradation from dark blue to white is also expressed by the bubbles which are squeezed one by one by hand. Winner of the National Traditional Crafts Open Call Exhibition 2020 and 2021.
«deep forest»
This latest work in the series takes inspiration from the natural world, depicting the shores of a deep forest. The trees reflected on the surface of the water are sucked deep into the lake by water bubbles.
| | |
| --- | --- |
| size: | W500.H1200.L20 |
| materials: | 絹,木 Silk,Wood |
鹿の子絞ランプシェード
SHIBORI Lampshade
2020
絞りを施した部分を後染めし、水玉模様に。生地の凹凸を通して、柔らかな光が広がる。
The squeezed part of the cloth is then dyed to make a polka dot pattern. Soft light permeates the unevenness of the fabric.
| | |
| --- | --- |
| size: | (生地サイズ Fabric size)W360.H480 |
| materials: | ポリエステル Polyester |
鹿革絞ウェーブパネル
SHIBORI Artpanel
2019
絞り染めの技術と鹿革の特性が重なり、計算できない独特の表情をみせているアートパネル。
下地に曲面の合板を用いることで、素材と染め模様の奥行きを引き立てている。
KANOKO SHIBORI
Art panels show the unique overlapping and spontaneous expression of tie and dye techniques and deer leather characteristics. A curved base plywood support creates the waving surface.
| | |
| --- | --- |
| size: | W500.H760.D20 |
| materials: | 鹿革,木 Leather,Wood |
株式会社京都絞美京
KYOTO SHIBORI BIKYO Co.,Ltd.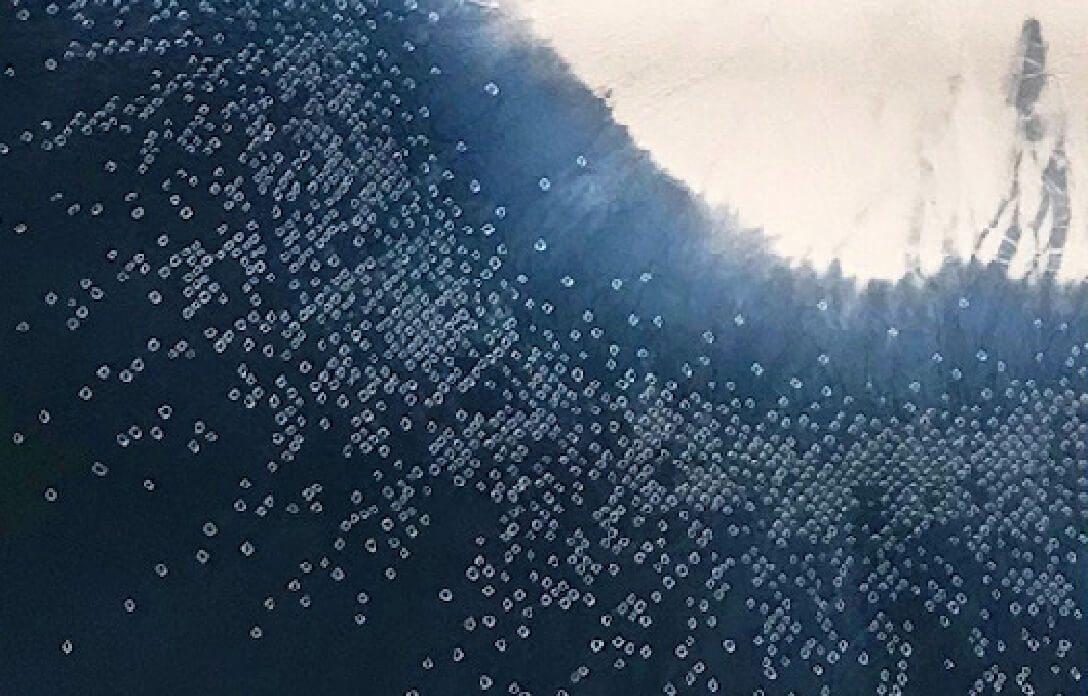 1937年創業。
「京鹿の子絞」の伝統技術と「デジタル3D」の最新技術を組み合わせたファッション雑貨のブランド『KIZOMÉ』から、伝統工芸士がジャパンメイドにこだわって染め上げた品を国内外に発信。積極的に新技術・新デザインを取り入れることにより、京鹿の子絞の伝統技法の維持・継続に力を注いでいる。
KYOTO SHIBORI BIKYO, founded in 1937 in Kyoto, inherits an 80-year old tradition, manufacturing kimonos and obis made with Kyo Kanoko Shibori tie-dyeing techniques. With the creation of the fashion goods brand "KIZOMÉ" in 2016, KYOTO SHIBORI BIKYO combines Kyo Kanoko Shibori's traditional methods with the latest 3D digital technology. The traditional craftsmen of KYOTO SHIBORI BIKYO strive to revive the Japanese traditional clothing industry, by focusing on Japan-made dyed products to be distributed all over Japan and overseas.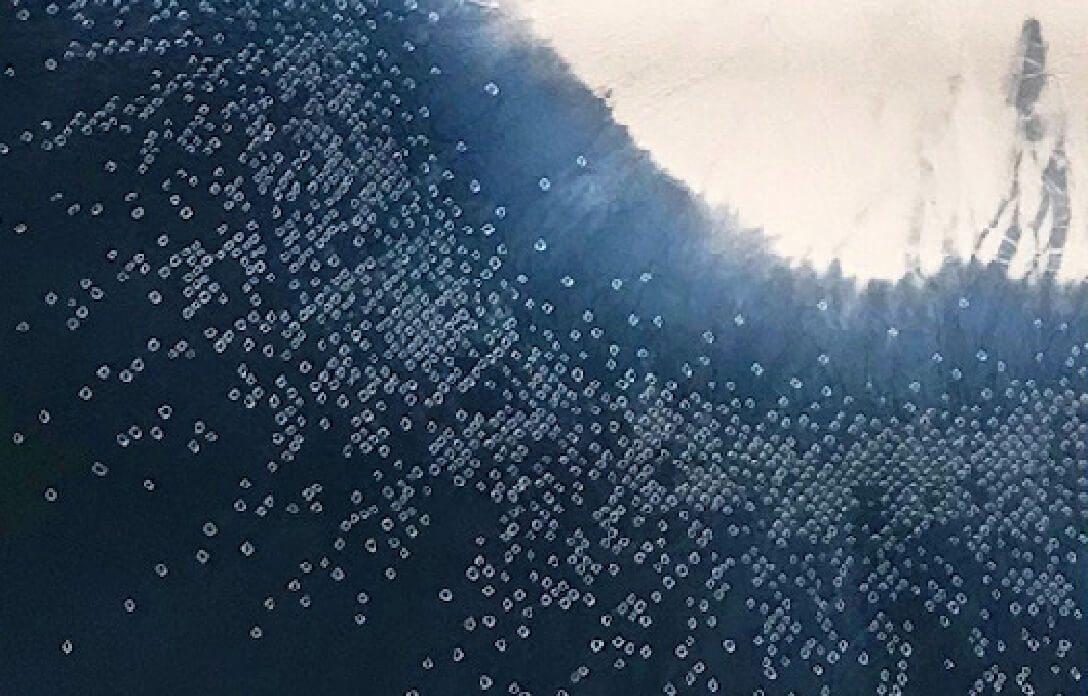 〒604-8863京都府京都市中京区壬生中川町2-32-3 Mibunakagawa-cho, Nakagyo-ku, Kyoto, 604-8863 Japan
Tel : +81 075-812-7777 Fax : +81 075-841-8322